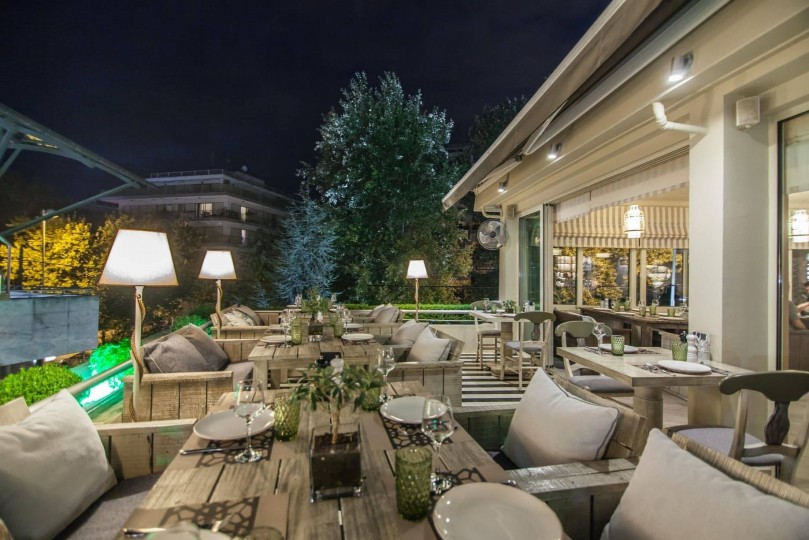 To Manitari Restaurant, is located at the East site of Thessaloniki, at the second floor of Sofouli street 57 Kalamaria. The owner, Giannis Ziaggas, due to his love in gastronomy, created this special place.
The interior, is recently renovated by the technical office of Natali Tsifoutidou. Monastery type of tables, remarkable light fixtures and cozy chairs. The walls have been covered with veneer wood and lazer cut coverages have been placed to the windows. The beautiful view to the flourishing Sofouli street, makes the balcony a perfect place to be for a relaxing meal with friends, a business lunch or a special dinner. The bar, which is placed at the entrance of the restaurant, hosts a plenty variety of wines from the Greek fields. The list edits our lady Sommelier Dakanali Elina.
Our awarded consultant chef Dimitris Pamporis puts his signature and creates the card menu which combinates raw materials from all over the Greece. Leonidas Pantsioukas with his kitchen team is the chef de cuisine who creates all these beautiful dishes every day.
Our restaurant has been twice awarded with the ''Greek Cuisine Award'' by the Athinorama Guide and two times by the FNL Guide ''FNL award''. Also has been distinguished with prizes such as '' best value for money restaurant'' or '' Total Experience '' by the Estia Awards.
The relaxing and diacritic environment makes it perfect for business lunches with special set menus in a big range of rates, just a few minutes outside of the historical center of Thessaloniki.